DiLCo Methods Day 2023
Methods for on/offline nexus analysis:
Multi-sited ethnography and heterogeneous data management
On 6 October 2023, DiLCo organised a methods day on on/offline nexus analysis.
All lectures have been recorded and are available open access in our DiLCo Video Repository: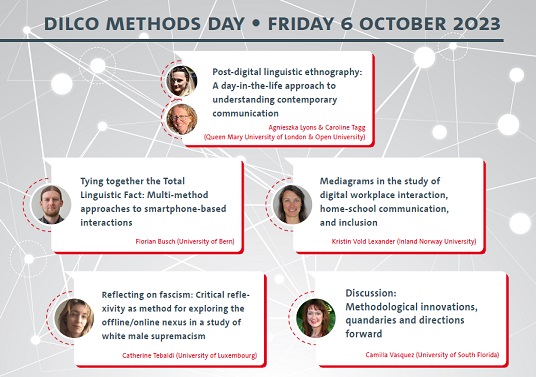 The 2023 Methods Day focused on multi-sited fieldwork across on- and offline sites of interaction and discourse, and the resulting need to manage heterogeneous data, such as interviews, fieldwork notes, and digital data in text and audiovisual format. These research techniques are familiar from earlier stages of digital ethnography and discourse analysis. However, they currently gain importance and complexity as researchers turn to the 'online/offline nexus', i.e. the interdependence of online and offline activities in everyday private or organizational communication.
This one-day event included presentations by researchers with intensive first-hand expertise in conducting multi-sited research and managing heterogeneous data sets. Each presentation showcased a particular research technique or case study methodology. Topics include: designing and conducting blended fieldwork; context-sensitive strategies for on/offline data collection; and software-assisted coding, categorizing and triangulating heterogeneous data.
Presenters (please click on the names for abstracts and bios):